We founded 2MAD as a combination of an architect and a structural engineer with the aim of offering clients a comprehensive service that will utilize the potential of connecting our professions from the beginning of each project.
Our work is also appreciated by the professional public, so in 2021 we took 2nd place in the competition IBM company of the year 2021 of the capital city of Prague.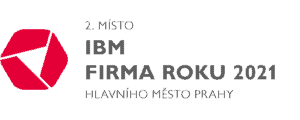 ARCHITECTS AND DESIGNERS IN ONE
The core of the team is made up of architects and designers who work closely with other experts from various fields in order to guarantee the quality of the result to investors and make the whole process as easy as possible for them, from the first idea to implementation and further modifications in the future. Whether you dream of a new building or a renovation, your main partner will be one of our architects who will work with you to decide how the space will work for you and how it will look. You don't have to deal with construction requirements, one of our designers is always responsible for construction quality, with whom the architect will be in close cooperation from the very beginning of the project.
Jiří Müller
Chief architect I authorized architect CKA 05136
He has an overview of all projects, each proposal goes through his microscope. Do not say in front of him that something is not possible, because he will always find several solutions.
Pavel Nechanický
Chief Designer I Authorized Designer CKAIT 0501319
As a structural engineer, he is in charge of assessing the load-bearing capacity and stability of structures, he prefers wooden buildings and the more complex, the better.
Veronika Adámková
Architect
She cooperated with Jirka long before the establishment of the studio. She will solve the reconstruction of the apartment and the new building with you, you will appreciate its care and practical view.
Jan Müller
Architect
His domain is visualization and larger projects. You will meet Jan if you are dealing with an apartment building or a commercial building.
Hana Novotná
Architect
She prefers reconstructions in which she applies her sense of detail – whether it's planning the layout, designing a material solution or choosing a specific piece of equipment.
Tereza Pecárová
Architect
Whether she's dealing with an apartment or a house, she always copes and won't stop trying until she finds the ideal solution – even if it means her time on the construction site with a drill in her hand.
Jiří Fáber
Designer
An experienced professional who works in such a way that you do not even know about his presence and everything flows as it should. You will meet him if you are dealing with wooden structures.
Eva Kubjátová
Architect
She prefers to work with people instead of designing. At the beginning of the project, she will ask you a lot of questions to get to know you well and find out what you really want.
Petra Nechanická
Support of the studio
She makes sure that all the paperwork and necessities are completed around the studio so our workers can fully devote themselves to you.
Tomáš Harigel
Student/Bachelor of designe
Jiří Beran
Ingeneer /Project manager
Jiří Vašíček
Project coordinator
Jitka Fialová
Back office manager
Lucie Míková
Back office manager
Simona Maceková
Architect
Ferdinand Zděnovec
Designer
Mr. T
Environmental Quality Controler I
Constant pace, constant mood, constant perspective. A team member who will not be distracted by any change in the situation.
1.
Tailored to your real needs and dreams
We look for more than just a general assignment and will easily find out if what you are talking about is really what you want.
2. Joint creation is based on open discussion, trust and sharing
We value your time, so we like to be direct and straightforward.
3. We connect different disciplines and knowledge
We respect the roles of everyone involved and welcome perspectives from different sides because everyone understands their field best.
4. We are looking for new solutions when creating details and combining materials
Every client is an original, therefore every realization is unique in its form and execution.

5. We offer comprehensive project solutions and process support
From the first idea to the final implementation – in projects we emphasize their utility value, simplicity and sustainability.
6. Cooperation with us begins with dreams and ends with friendship
Our priority is not only a quality result, we care about great cooperation, the result of which is a relationship that lasts even after implementation.
"Finally, we can function in the apartment without compromise and exactly as we want. We did not plan a complete reconstruction of the apartment, but we went for it – it was worth it. Thank you!"
"Jirka has an amazing attitude. He always helps, suggests options and sees things a few steps ahead. Thanks to him, I did not join the group of friends who remember the construction of their house only negatively."
"Eva and Jirka are unusual professionals. Why? Because they listen to you. They listen to your wishes and desires, even those you don't even know you have yet. How? By asking you the right questions, based on which you realize exactly what you want. And here are hidden hundreds of thousands to millions of crowns, both in money and time. Even though the work of II MAD may seem more expensive at first, you will save much more in the end. You will avoid racking your brain over how you actually want it and save money by not looking for a path that is already walked by the experience and contacts of these architects. If you are looking for services that meet your wishes, you have come to the right place."
REPEATING CLIENTS
PARTNERS
In 2020, the company 2MAD s.r.o. acquired support from the European Structural and Investment Funds, implemented through the Operational Program Prague – growth pole of the Czech Republic and drawn on through the second call for Specialized Vouchers:
​Prague voucher program for coaching and mentoring, reg. no. Z.07.1.02/0.0/0.0/16_027/0000607
Support for the 2MAD project will help build the cornerstones of the management of the 2MAD company in Prague. The expected outcome is the establishment of a sustainable system of its functioning – specifically in the areas of finance, management, organization, production, marketing, PR, law and human resources.
2MAD project co-financed by the European Union.
program Prague voucher for creative services, reg. no. CZ.07.1.02/0.0/0.0/16_027/0000607
The support of the project Marketing presentation and online advertising for 2MAD was aimed at the Prague-based company 2MAD creating a professional multimedia presentation including websites, online marketing, branding and design, production and advertising. The expected output is a relevant demand within the target group and among suppliers, building brand awareness and at the same time spreading ideas beyond just those with whom the company can directly cooperate.
Project Marketing presentation and online advertising for the company 2MAD co-financed by the European Union.